Donate & Dine Campaign!
Meals On Wheels of Staten Island is proud to launch our Fourth Annual Donate & Dine Campaign designed to help feed homebound seniors while also helping support local restaurants!
When you donate $75 to Meals On Wheels using the form below, you'll receive a $50 gift card to one of our participating locations.  It's that easy!
Don't forget you can also use the form below to purchase a 50/50 ticket or purchase raffle tickets to be entered to win one of our beautiful baskets! The campaign will end on NOVEMBER 17TH with a LIVE stream of our picking the winners!
From all of us here at Meals On Wheels of Staten Island, we thank you for your support!
Donate $75 To Meals On Wheels
Your donation will help feed homebound seniors on Staten Island.
Get a $50 Gift Card
Select a location from our list below to receive your $50 gift card!
Help Seniors & Small Business
Know that your support will help feed seniors while also helping our local restaurants during these uncertain times.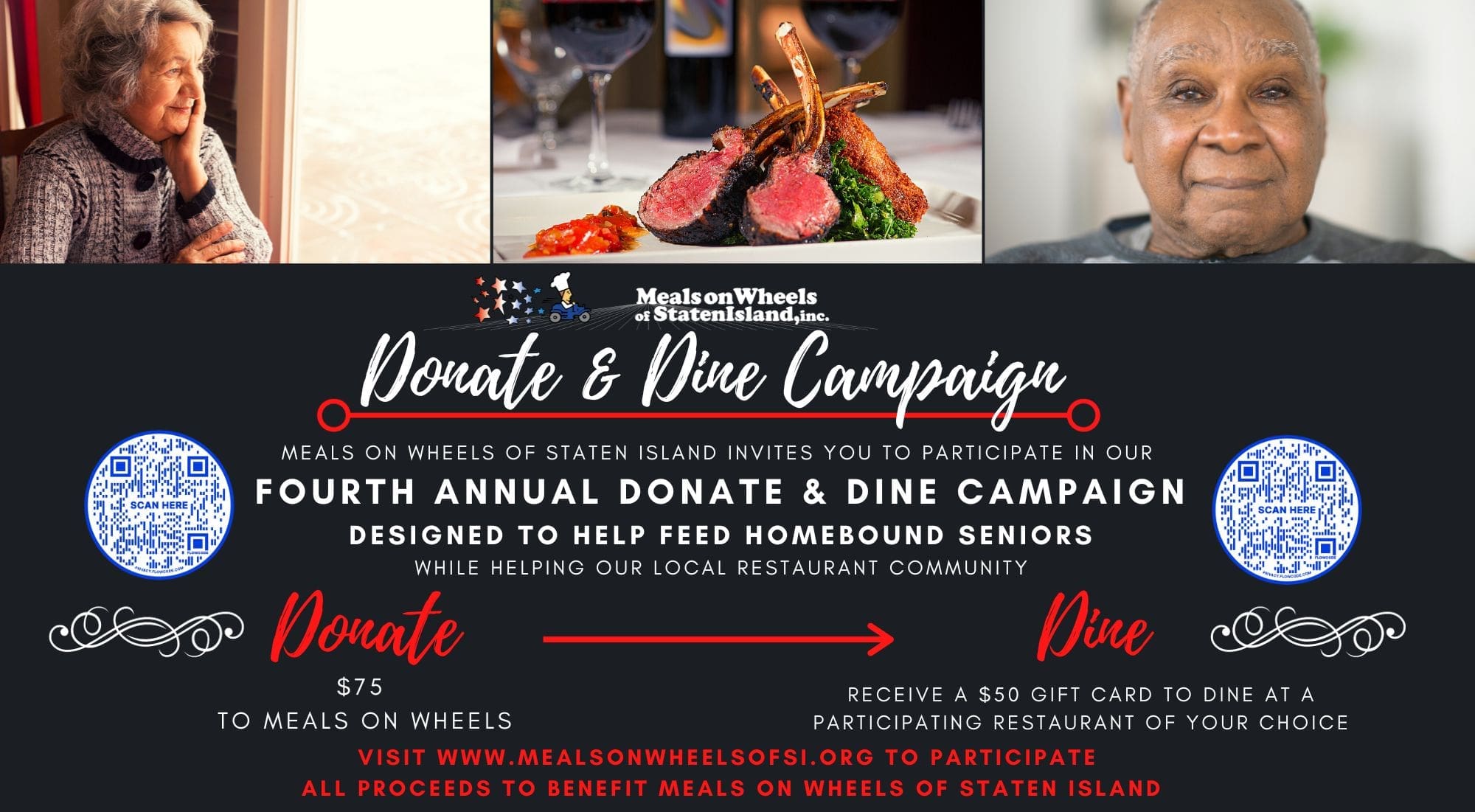 Thank You To Our Restaurant Partners!  You Will Have The Choice To Select One $50 Gift Card From Any Of These Locations For Every $75 you Donate To Meals On Wheels.
Beyar's Market
Canlon's
Denino's
Deluca's Restaurant (Tottenville/Forest)
District
Harvest Cafe
Joyce's Tavern
Jimmy Max
La Bella Marketplace
Osteria Santina
Richmond Republic
Rustic Pizza & Pasta
Sally's Southern
Sofia's Taqueria
Stone House
The Pizza Parlor
Violettes Cellar
In Addition To Getting Your Gift Cards, You Can Also Enter Our 50/50 Online Or Enter To Win One of our Raffle Baskets Below!
Thank You For Your Support! Please Tune in Friday, November 17th at 2pm For Our Live Stream On Facebook!